Sustrans Bronze award
22nd Mar 2021
We are delighted to have received the Bronze certificate from Sustrans. We featured in today's Tyrone Herald and are really looking forward to achieving our Silver certificate.
The article that was shared with the paper can be read below.
Pupils at Tummery P.S., Dromore have recently picked up an award for healthier travel to school.
A year and a half on from beginning the Active School Travel programme with charity Sustrans, which encourages healthy and active ways of getting around, more Tummery P.S. pupils are now choosing to cycle, walk and scoot for their everyday journeys. Their determined efforts have been recognized as the school were awarded the Bronze School Mark award this month.
Sustrans Schools Officer for the South West area, Ann-Marie McManus commented on how well the school has embraced the ethos of the Active School Travel programme:
'Tummery P.S. really deserve this award for taking on the challenge of getting more of their pupils travelling actively and staying as fit and healthy as can be. Given the rural location of and limited infrastructure surrounding the school it can be challenging to promote cycling, walking and scooting as a means of school travel. However, the staff at Tummery P.S. have been very proactive covering all health and safety aspects and really championing the benefits of getting kids active outdoors'
Tummery P.S. Principal and Active Travel Champion Conor McCrystall added;
'The children have had so much fun completing National Standard Cycle Training and Ditch the Stabilisers sessions, and are enjoying learning about the benefits of active travel to the environment and their health. This programme has helped to raise great awareness among our whole school community.'
Tummery P.S. are now working towards the Silver School Mark award and have lots of plans to keep the active travel momentum going with more exciting activities and events.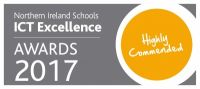 Tummery Primary School, 118 Newpark Rd, Dromore Co. Tyrone BT78 3JZ | 028 8289 8455